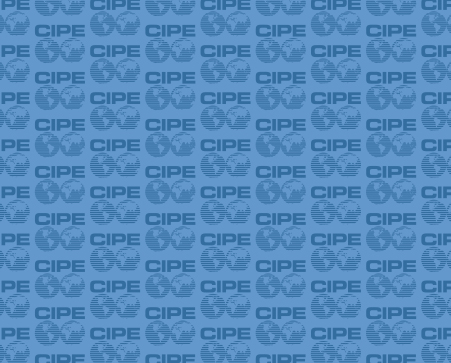 It is a simple fact of economic development that no policy or program will succeed if it leaves half of the population out of the equation. In far too many countries around the world, women are denied opportunities to participate fully in economic and political life. Barriers that prevent women entrepreneurs from starting and growing their businesses or shut them out of positions of power in corporations, governments, and business associations not only deny  opportunity to women themselves — they hold all of society back.
This is why CIPE works to make sure that women are empowered to develop their power base, advocate for reform, and exert their own leadership to change their operating environment politically, culturally, and economically. Whether it is through the formation of women's business associations, changing laws to allow women to own property and access capital, or working with young women to develop their entrepreneurial potential, women's empowerment is often central to CIPE's mission and to our partners' agendas for democratic and economic reform.
In celebration of International Women's Day on March 8, the CIPE Development Blog will focus this week and next on stories of how CIPE is helping enable women around the world to build their own future and seize their own opportunities.
Follow all of our women's day coverage at the IWD tag here on the blog.
Jon Custer is Social Media / Communications Coordinator at CIPE.