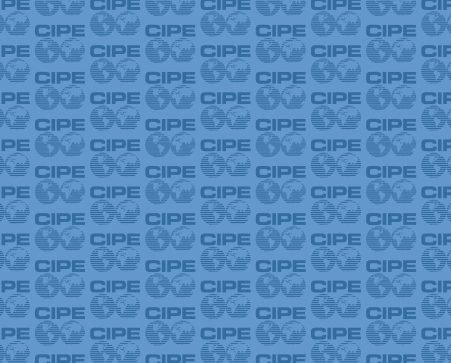 "In a rare show of strength, top representatives of all the country's chambers of commerce and industry gathered in Karachi and asked the government to revamp the tax collection system if it wants to increase revenue collection in the country." – Express Tribune
For the past five years, CIPE Pakistan has been supporting the All-Pakistan Chamber Presidents' Conference organized by Rawalpindi Chamber of Commerce & Industry. This conference has provided the business community an opportunity to assemble and a platform to advocate for policy reforms in the country with one voice.
Following in the footsteps this conference, Pakistan's largest chamber, the Karachi Chamber of Commerce & Industry, organized a Chamber Presidents' Conference focusing on bringing together leading chambers to submit a joint proposal for the forthcoming federal budget.
Considering the fact that Pakistan has one of the lowest tax to GDP ratios, which results in the government falling short of revenue and burdening those who already pay heavy taxes, participants of this conference remained focused on a single-point agenda "to work with government on increasing tax collection and reducing dependence on IMF loans."
Zubair Motiwala, Co-President of the Pakistan-Afghanistan Chamber of Commerce & Industry said, "Our successive governments have followed a policy of divide and rule. But now that we are united here on one platform, no government can ignore us anymore."
The conference was attended by the presidents of more than 18 chambers including those from Faisalabad, Lahore, Multan, Islamabad, Rawalpindi, Khyber Pakhtunkhwa, Gilgit Baltistan, Lasbela, Sukkur, and other cities and regions.
This was the first time that leading chambers have agreed to develop a unified budget proposal at least two months ahead of budget preparation. The proposal will be finalized at the next meeting, which will be hosted by Faisalabad Chamber of Commerce & Industry in April of this year.
The business community showed its determination to keep advocating for policy reforms to encourage economic revival in the country. Speaking at the occasion, Dr. Shimail Daud, President of the Rawalpindi Chamber of Commerce and Industry, said;
"The unnecessary power of the bureaucracy should be curtailed for the good of the country's economy. The business community from all four provinces of the country is working together for the most implementable and serious budget proposals and this time it will definitely bring results."
Moin Fudda is Country Director for CIPE Pakistan.