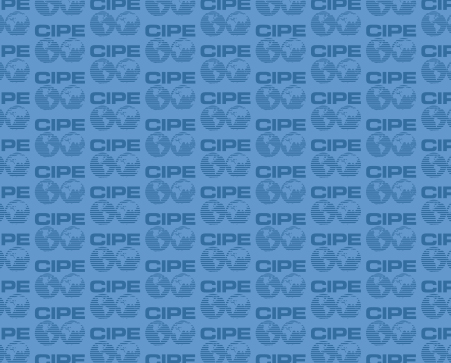 On January 24 at the U.S. Department of State, CIPE, Atlas Corps, and the Office of the U.S. Special Envoy for Sudan and South Sudan co-hosted a welcome event for the new class of Atlas Corps Fellows including five participants of the CIPE-Atlas Corps Think Tank LINKS Fellowship.
As mentioned in a previous post, this year's Think Tank LINKS fellows represent various regions around the world and either come from leading think tanks back in their home countries or will be serving at top-tier organizations in Washington, DC.
In the recently published 2013 Global Go To Think Tank Index by James McGann from the University of Pennsylvania, two of our fellows' home think tanks were named top regional think tanks (including the Sustainable Development Policy Institute in Pakistan and the Botswana Institute for Policy Development Analysis) and three of the host think tanks were ranked as top think tanks in U.S. (including the Heritage Foundation, the Atlantic Council of the United States, and the Urban Institute).
Speakers at the State Department event included CIPE Deputy Director of Strategic Planning and Programs Andrew Wilson, Assistant Secretary for Educational and Cultural Affairs (ECA) Evan Ryan, Director of the Office of the Special Envoy for Sudan and South Sudan at the U.S. Department of State Lucy Tamlyn, and Atlas Corps CEO & President Scott Beale.
All four speakers emphasized the importance of the U.S. engagement with entrepreneurs and young reformers from around the world to share ideas and best practices in order to discover new ways to address complex social challenges we all face as global citizens.
CIPE and Atlas Corps are thrilled to be part of this global movement by engaging young civil society leaders to cross borders and hone their professional and leadership skills to become thought leaders and advocates for reform in their home countries.
For the next six months, CIPE will publish blogs by each of the Think Tank LINKS Fellows about their research findings and experiences living in Washington, DC.  Read them and learn more about these exciting young civil society leaders!
Maiko Nakagaki is a Program Officer for Global Programs at CIPE.