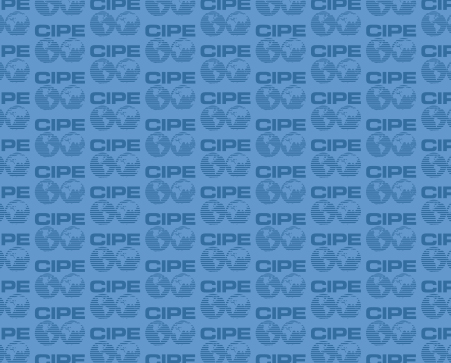 By Laura Boyette and Teodora Mihaylova 
Including women in the economy is not just the right thing to do, but also the smart thing for a country's economic growth. Women's participation in the workforce is potentially a major source of global economic growth and job creation, and yet a recently released World Bank report finds that nearly 90 percent of 143 countries studied contain at "least one legal difference restricting women's economic opportunities."
Women make up half of the world's population, yet face many more cultural, legal, familial, religious, and economic barriers than men to entering the market. These impediments limit women's ability to provide for themselves and their families, depriving them of the essential human right of autonomy in their decisions, economic opportunities, and the ability to petition the government or have access to institutions. These barriers also deprive countries of significant GDP growth and stand in the way of attaining full development goals. Previous CIPE blogs have discussed the merits of closing the economic participation gender gap, how gender equity is an integral part of the post-2015 development agenda, and the fact that women are natural entrepreneurs but lack resources to develop skills.
The Women, Business and the Law report, recently introduced at the Brookings Institution, examines the legal and regulatory barriers to women's participation in the workforce through seven indicators: gaining access to institutions, using property, getting a job, providing incentives to work, building credit, going to court, and protecting women from violence.
The study distinguishes between married and unmarried women as certain legal differences apply only to married women. For example, in 15 economies husbands can object to their wives' having a job and actually prevent them from obtaining or force them to be fired from their jobs. In many countries, only men can be considered the head of household, preventing women – and especially mothers – from accessing important resources such as grain subsidies or enrollment papers for their children. The study notes that 79 countries have legislation that restricts women's employment opportunities based on gender. Reasons for these restrictions are associated with societal views that certain occupations are "deemed morally inappropriate for women" or are seen as physically harmful.
Besides looking at the state of women's legal affairs, Sarah Iqbal, Program Manager for Women, Business and the Law at the World Bank, highlighted some of the consequences of these legal and regulatory differences between the genders. One consequence is that greater restrictions on women's employment opportunities contribute to the gender pay gap and lower female labor force participation rates.  In times of economic downturns, the only jobs that are available in the market are usually ones that women cannot legally take advantage of.  CIPE's longstanding work on eliminating legal and regulatory barriers as a means of encouraging democratic reform and economic development has illustrated the importance of a level playing field.
Another interesting finding of the report is that as the number of women in leadership positions increases, this leads to the adoption of more favorable policies for female workers and legislation that favors education and healthcare. This is clearly evidenced in the case of Norway and India. Furthermore, the adoption of the UN Convention on Ending Discrimination Against Women (CEDAW) facilitated reforms around the world and the removal of discriminatory legal rules as more countries have made a commitment to achieve gender parity.
Overall, the report notes that "in the past 50 years women's legal status has improved all over the world" but that problems persist in both highly industrialized economies and developing countries. More than half of the impediments to women's property rights and legal status have been removed since 1960, but there is still much to be done.
There has been a growing interest in studying women's economic participation, reflecting their important contributions to the global economy. The Global Entrepreneurship Monitor 2010 Women's Report Studies see encouraging women's entrepreneurship as a ladder for expanding economic opportunities to all members of society and a strategy for post-recessional economic growth.
These reports show that achieving gender parity in all aspects of societal development yields more prosperous, equitable and peaceful countries. Furthermore, CIPE's recent report on entrepreneurship emphasizes that the environment for economic inclusion and entrepreneurial success is "central to innovation, wealth creation and job growth, as well as political stability" but requires the private sector, public sector and civil society come together and provide the infrastructure for women's empowerment.
Teodora Mihaylova is a Research Assistant at CIPE. Laura Boyette is a Program Assistant for Latin America & the Caribbean at CIPE.