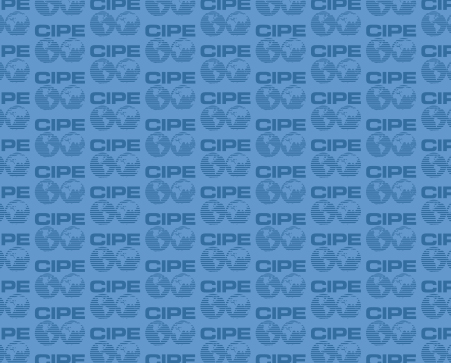 "We should learn from Bangladesh model where banks are forced to extend certain percentage of loans to women entrepreneurs. This easier access to finance has helped Bangladeshi women to become economically strong. Banks in Pakistan need to develop products focusing women businesses and they should begin financial literacy programmers to educate women entrepreneurs about business procedures and financial management." – Peshawar Women Chamber of Commerce & Industry
Khyber Pakhtunkhwa (KP) is Pakistan's most terrorism affected province. The province is also known for a culture restricting women from participating in economic activities. Due to cultural barriers and terrorism, opportunities for women in KP province are limited; so much so, that in a number of KP districts, women are barred from casting their votes in the general elections.
Since 2006, CIPE Pakistan has been working with its partner Peshawar Women Chamber of Commerce & Industry to help them create a network of women entrepreneurs in Peshawar. The chamber started with only six members, and now has grown to over 150 active members.
With help from a CIPE small grant, the chamber recently embarked upon an advocacy project to engage provincial government in improving the entrepreneurial ecosystem for women. Additionally, the chamber also engaged the provincial office of Central Bank to dialogue for improving access to finance for women entrepreneurs in KP province.
Under this project, the chamber identified four key stakeholders: students and academia, women entrepreneurs, financial institutions, and politicians. CIPE provided advocacy guidance for organizing focus group meetings with these stakeholders to develop a set of recommendations.  The engagement with stakeholders provided an excellent opportunity to create a strong voice of women entrepreneurs that resulted in attracting participation from the governor of the province, the adviser to the Chief Minister, and the Education Minister, together with several other provincial assembly members at the final conference where Peshawar Women Chamber & Industry presented policy recommendations to the government and Central Bank.
Supporting the initiative, Dr. Mehr Taj Roghani, adviser to the provincial chief minister and MPA, said that "there was a need for doing more for women than just giving them 'thread and sewing machines,' symbolizing projects aiming at vocational training only, and the government believes empowering women and the youth to help develop the province. "
One of the key recommendation by the Chamber is to include basic business education in the school curriculum at grades 6, 7, and 8. Atif Khan, Provincial Minister for Elementary Education, accepted the idea and asked the chamber to make a separate presentation to his ministry on this recommendation.
Lauding the work of the Peshawar Women Chamber of Commerce, Engineer Shaukatullah, Governor of KP Province, offered his assistance for collaboration between the Federally Administered Tribal Areas (FATA) Secretariat and the Women Chamber of Commerce and Industry for identifying potential opportunities available in the tribal region and assisting the women of the FATA.
This first-of-its-kind advocacy project by the Peshawar Women Chamber of Commerce & Industry has not only raised the profile of the chamber but also provided an opportunity for policy intervention for the enhancement of the entrepreneurial ecosystem in the province.
Hammad Siddiqui is Deputy Country Director at CIPE Pakistan.