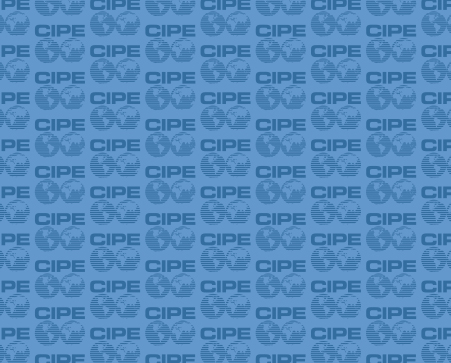 Veteran Ukrainian legislator Ksenia Lyapina is optimistic about the makeup of the newly elected parliament, the Verhovna Rada. Not only is she being joined in the 450-member body by six new deputies with an explicitly pro-entrepreneur agenda, but her party has some muscular new allies on key votes: both figuratively and literally. In the first two days of the new Rada's proceedings in mid-December, pushing matches, brawls, and fistfights broke out on the floor. Lyapina liked what she saw among the 37 deputies in the Svoboda ("Freedom") party.
"Now, we've got Svoboda with us. They've got some young men in good physical shape," she said at a restaurant near the Rada on December 13, shortly after the closing of the second day of the proceedings. "Before, we were being beaten all the time," added Lyapina, a refined woman who is one of Ukraine's leading experts on issues of importance to small and medium-sized enterprises (SMEs).
In the previous session of the Rada, the pro-government Party of Regions maintained both political and physical control over the body. In Ukraine, police are banned from entering the legislative chamber. That makes brawn a factor in deciding political issues, by denying deputies access to the dais with a microphone or by barring entry to members who want to vote. Lyapina said women rarely take part, although when her party was shorthanded during a May 2012 vote on language issues, she helped restrain opposing deputies during this tussle.
Fisticuffs aside, the new session of the Rada is an especially promising one from the point of view of issues of importance to entrepreneurs, including reducing corruption, decreasing the tax burden on SMEs, and boosting inclusion of SMEs in policy making. Those issues may receive greater attention in the new Rada session because of Lyapina's presence, as well as that of six new deputies committed to SME issues.
All the pro-SME deputies are from opposition parties. Aside from Lyapina's Batkivshina party, headed by jailed former prime minister Yulia Tymoshenko, the other two opposition parties are Udar ("Punch"), headed by current World Boxing Council heavyweight champion Vitali Klitschko, and Svoboda, a newcomer nationalist party controversial for its leaders' extremist comments.
The increased prominence of SME issues in the new Rada comes on the heels of a CIPE project that operated in 11 regions to define entrepreneurs' top political issues and then seek pledges from Rada candidates to pursue those issues. With CIPE support, business associations polled 2,700 businesses and SME groups in the summer of 2012 to identify leading concerns.
Corruption, burdensome taxes, and tone-deaf policy makers consistently topped the list. In September, CIPE partner organizations obtained pledges from 49 candidates from various parties to recognize the grassroots demands of their potential constituents. In the October 28 election, four of these deputies won election from single candidate districts. Another two candidates were elected through party lists. (Ukraine uses both methods to elect lawmakers.)
In the opening days of the new Rada, Lyapina was hard put to predict what pro-SME legislative initiatives might emerge in 2013, but believed there would be more than came out of the previous Rada. "It will be different and that is good," she said.
Frank Brown is Program Officer for Eurasia at CIPE.