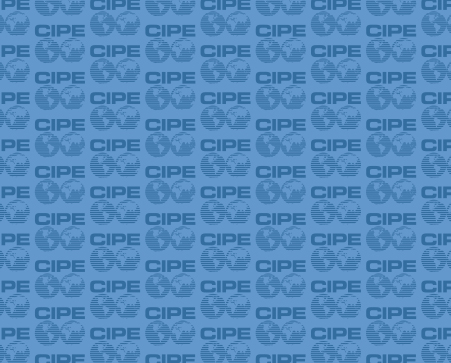 In 2004, CIPE partnered with the Afghanistan Ministry of Education to launch a pilot program to help Afghan youth learn more about entrepreneurship and basic business skills, in addition to the core national curricula. Since the program's inception, approximately 13,000 high school students have successfully completed the three-year Tashabos youth entrepreneurship course – half of them girls and young women. The skills that the students acquire during the Tashabos program better equip them to take leadership positions as entrepreneurs, empowering them to advance democratic and market-oriented reforms in their communities.
Tashabos may sound like just another class, but the students who participate in these courses take the lessons to heart and seek opportunities to start small businesses, thereby making their local communities better places. By helping Tashabos students understand the principles behind small business, CIPE is helping these students make a positive contribution to Afghanistan's business environment. In addition, many Tashabos students contribute to the success of their family businesses. Youth are too often left out of political and economic policymaking, but with the right skills as business owners, these students are preparing for active roles as decision makers.
The Tashabos classes incorporate business competitions alongside regular courses. In October, CIPE worked with three high schools in Parwan Province to conduct local business proposal writing competitions, where students presented their business ideas using the knowledge and skills acquired during their Tashabos studies. More than 30 students participated, and the winners took part in a final competition at the end of 2011 between the top students from each school in the Tashabos program. CIPE also assisted the schools in organizing exhibitions for the students to display and sell products they have developed.
In December, CIPE supported another proposal writing competition with four schools in Jalalabad, where more than 60 students participated, applying their classroom knowledge to a real world business venture. In 2011 alone, 177 Tashabos students used their knowledge to successfully start their own businesses.
Of the Tashabos graduates, 1,362 have set up their own small business, 204 have revived a family business, and 350 have helped expand an existing family business. In total, the students have created 7,336 jobs in their communities.
This article by CIPE Afghanistan Communications Officer Ahmad Masoud originally appeared in OverseasREPORT No. 51.