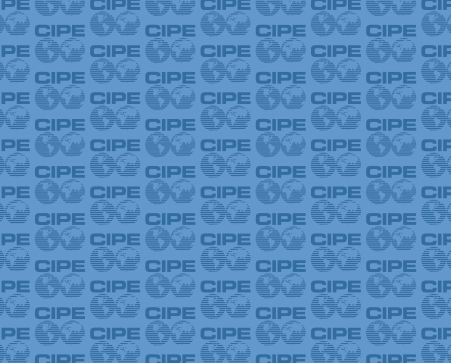 The question of how to create economic basis for peace and prosperity in Afghanistan has been on the minds of local policymakers and international development experts alike. What better way to find answers than to ask Afghan entrepreneurs what challenges they are facing? The Ewing Marion Kauffman Foundation has done just that. A newly released paper "Bactrian Gold: Challenges and Hope for Private-Sector Development in Afghanistan" is a result of more than 130 interviews with business owners and other economic stakeholders conducted in cities across Afghanistan. The authors Jake Cusack and Erik Malmstrom – U.S. combat veterans in Afghanistan and Iraq – traveled without security or organizational affiliation to Kabul, Kandahar, Jalalabad, Mazar-e-Sharif and Heart in order to gain first-hand perspectives of the Afghan people.
Their findings complement the results of CIPE's 2010 Afghanistan Business Survey of 738 Afghan businesses who identified the three leading factors most adversely affecting the growth of the Afghan private sector to be: lack of security (78 percent of respondents), corruption (53 percent), and lack of electricity (44 percent). The report delves deeper into the complexities behind those and other problems facing Afghan entrepreneurs.
Cusack and Malmstrom observe that despite increasing violence, business continues. The key problem is that because of security issues and poor infrastructure, it is difficult to maintain predictability in business and expand operations, as businesses find themselves cut off from raw materials or technologies they need, and unable to deliver their goods to the market. But ultimately it is uncertainty – not just regarding physical security but also government policies, foreign investment, infrastructure, etc. – that makes doing business in Afghanistan a challenge.
Corruption, a key theme in both the CIPE survey and Cusack and Malmstrom's interviews, is another crippling factor for Afghan businesses. A 2010 UN Office of Drugs and Crime study revealed that bribe payments in Afghanistan were equal to 23 percent of GDP. Not just bribes, but also widespread favoritism and nepotism rooted in weak governance institutions and crony capitalism, hinder the development of a market economy where businesses can compete on the level playing field. As the report puts it, currently "many businesses in urban areas view the government as both weak and malignant. It is not strong enough to protect or guarantee private property rights, yet it still wields enough power to make things very difficult for the disfavored or very easy for the connected."
These problems are compounded by limited access to capital, corrupt judiciary, underdeveloped human capital, unfavorable trade and land policies, and distortions caused by the poorly managed influx of foreign aid. Businesses do adapt to such a difficult environment but that's a short-term strategy that cannot guarantee long-term sustainability for individual businesses or the desired development outcomes for the country as a whole. The authors have these recommendations based on their on-the-ground experience:
Infuse private-sector talent, foreign and Afghan, to support local businesses.

Change development incentives to reward implementation and long-term results.

Support Afghan enterprises with a better regulatory and operating environment, public-private partnerships, and linkages to multinational firms.

Increase access to capital and business advisory services.

Make clear long-term commitments by the international community to reduce harmful uncertainty in the business environment.
The authors conclude that, despite challenges, Afghanistan has a significant untapped economic potential that can be capitalized on through the development of its private sector. Cusack and Malmstrom warn that "war should not be an excuse to resurrect flawed concepts—for instance, that centrally planned growth is necessary due to a chaotic environment or that, with enough money, donors can simply create a developed economy." Instead, "a vibrant private sector must be built from the ground up, where government provides a basic level of security, removes as much unpredictability as possible, and provides a regulatory framework for success (…) Afghan entrepreneurs must be empowered to be the key drivers." One can only hope that the international community and the Afghan officials alike heed this advice.