Women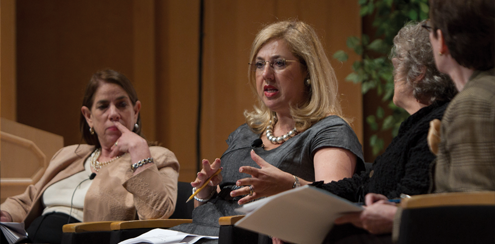 The Center for International Private Enterprise (CIPE) works to remove institutional and cultural barriers to women's participation in society. CIPE views women's empowerment through the prism of building linkages between educational, political, civic, and economic empowerment, where civil society organizations – especially women's business associations – become a leading force to remove barriers and empower women to shape the future of their own countries.
Bringing women into the economy through the medium of chambers of commerce and business associations amplifies the impact of new entrants into the economy by creating collective action movements and reducing poverty.
Removing barriers to entry at the local level empowers women's groups to pursue broader, far-reaching policy changes on a national level that lead to more balanced gender relations.
Giving women access to education on entrepreneurship and leadership topics allows participants to grow local economies by starting businesses.
In these and many other areas – whether education, access to information, property rights, or senior leadership in major corporations – CIPE's approach to women's empowerment is guided by a simple principle: women's empowerment should not be driven by simply bestowing or extending power to women. To be truly empowered, women must develop their power base, advocate for reform, and exert their own leadership to change their operating environment politically, culturally, and economically.