CIPE and Freedom House Host Discussion On Advancing Political and Economic Freedom in Africa
August 1, 2014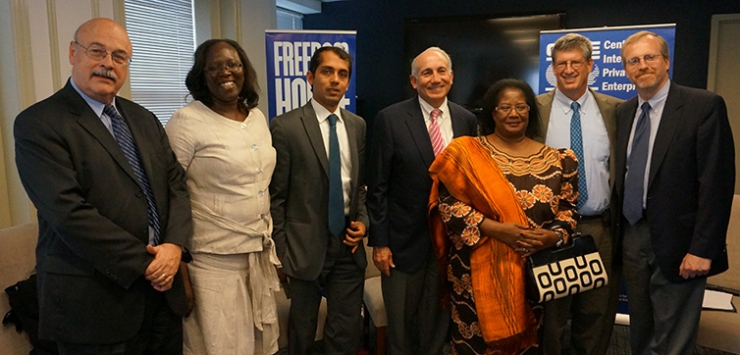 Contact:
Julie Johnson jjohnson@cipe.org
Representatives from African and American civil society, private sector, academia and government gathered at Freedom House on August 1 to participate in a panel discussion titled "Advancing Political and Economic Freedom in Africa: A Strategic Path for U.S.-Africa Relations."
The event was opened by CIPE's Executive Director, John D. Sullivan, who emphasized the need for discussions at the upcoming U.S.-Africa Leaders Summit to include consideration of the institutions of democratic governance required to ensure economic inclusive growth in Africa.
Speakers at the event included Managing Director and Co-Chairman of Charlesbank Kim G. Davis, Chairman of the U.S.-South Africa Business Council and former Ambassador to South Africa Hon. Donald Gips, CIPE partner and Chief Executive of the Kenya Association of Manufacturers Betty Maina, and Global Investment Strategist at Investec Aniket Shah. Former President of Malawi Joyca Banda, a former CIPE partner, also joined the discussion. Discussions were moderated by the President of Freedom House David J. Kramer.
The panel covered a range of topics including the intersection of democratic development and economic development, the importance of rule of law and freedom of the press in a market-based economy, China's involvement in Africa and the huge potential for long-term American investment in the continent, and the role of civil society and the private sector in promoting economic reforms.
Banda shared her experiences as President of Malawi fighting corruption in that country and expressed optimism that upcoming leaders in Africa understand the need to address this fundamental challenge.
The event provided an opportunity to frame commercial goals in the context of advancing broader democratic and economic freedoms in the lead up to the many U.S.-Africa discussions that will take place throughout Washington D.C. next week.
For a complete analysis of the topics raised during the discussion, as well as full video of the event, please follow the CIPE Development Blog.