Southeast Europe & the Caucasus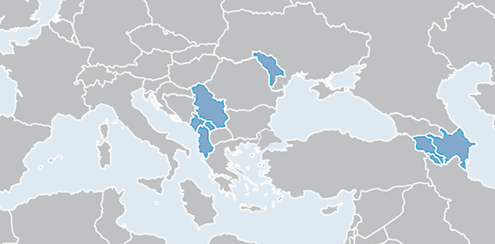 Throughout Southeast Europe and the Caucasus, the Center for International Private Enterprise (CIPE) works with business organizations to develop important skills for engaging successfully in the policymaking process and building sustainable networks to promote crucial reforms. CIPE supports local networks of think tanks, civil society organizations, and business associations to engage in an open and transparent public-private dialogue to improve the business climate for small and medium enterprises (SMEs). A core group of local experts in the region has been nurtured by CIPE to support business organizations and networks in improving the ability of the private sector to participate in the policy process.
In 2011, CIPE is supporting private sector participation in strengthening democratic processes in Southeast Europe and the Caucasus by partnering with business organizations and think tanks to promote economic reform, improve the business environment, and fight corruption. Regional partners will work with CIPE to strengthen the advocacy practices and technical capacities of local business support organizations and improve the quality of debate by building stronger consensus among business and civil society groups.
Read more about CIPE's programs in Southeast Europe and the Caucasus.