Publications
Find Publications
To search CIPE publications by region, topic, type, and author, try our Publications Search page.
Key CIPE Resources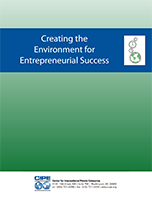 Creating the Environment for Entrepreneurial Success
This special report highlights the crucial environmental dimension of entrepreneurship ecosystems. Improving the conditions for entrepreneurship and leveling the playing field goes beyond the effort to help promising entrepreneurs. It expands the pool of potential entrepreneurs, builds incentives for entrepreneurship, eases the costs of doing business, and generates healthy competition. Policy and regulatory reforms should be integrated with comprehensive services to educate, finance, advise, and encourage entrepreneurs.
Kenya Property Markets Scorecard
The International Property Markets Scorecard is a tool jointly developed by the Center for International Private Enterprise (CIPE) and the International Real Property Foundation (IRPF) in order to map the institutional components of property markets and evaluate their effectiveness.
This report explains the Property Markets Scorecard findings, which examined the strength of urban, commercial property markets and the barriers that small businesses face in Kenya.
Advancing Corporate Governance in the Middle East & North Africa
This new publication presents real-world, practical examples of how companies in Middle East and North Africa (MENA) region overcame barriers and improved their governance practices in ways that benefited performance and growth. The featured companies have taken an incremental, nuanced approach, focusing on the corporate governance improvements most applicable and relevant for their size, industry, market, ownership structure, and corporate strategy.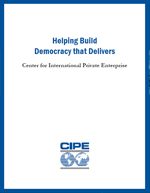 Helping Build Democracy that Delivers
CIPE's proven advocacy strategies and capacity-building programs for business associations aid democratic development on two fronts. The first is the creation of effective, responsive institutions for good policies and good governance. The second is the grassroots involvement of all types of businesspeople who take ownership of the reform process itself.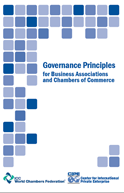 Governance Principles for Business Associations and Chambers of Commerce
CIPE and the World Chambers Federation (WCF) developed these principles in order to facilitate good governance within business associations. These principles provide a starting platform for developing and strengthening specific mechanisms related to good governance. The principles aim at capturing a broad set of good governance guidelines, which business associations in different countries can use to evaluate their existing practices and initiate improvements they deem necessary.