KnowHow Mentorship
What is KnowHow?
CIPE's KnowHow - a virtual mentorship program - matches the professional skills of volunteers with the needs of business and other non-profit organizations from around the world seeking technical assistance. By combining mentorship with technology, KnowHow offers a cost-effective platform.
Since 2011, CIPE has supported associations and private sector organizations striving to better fulfill their mission and be locally sustainable by pairing them with experts who have the skills the local organizations need.
The one-year mentorship involves the following:
CIPE assesses the capacity of potential mentee associations, and then reaches out to CIPE's network of volunteer association and chamber professionals to find a match
CIPE provides orientation for both mentees and mentors to establish effective communication and help set goals for the pairs
Mentors and mentees interact with each other through monthly Skype calls and email exchanges
CIPE checks-in with both mentees and mentors to see if the right steps are taken to reach the stated goals
Through the KnowHow mentorship, the mentee organizations build their capacity and become more effective participants in their country's economy and governance process.
Watch interviews with former KnowHow mentors and mentees
Success Stories
The participating mentee associations have all seen positive impacts for their organizations from partaking in CIPE's KnowHow mentorship program. Here are some testimonials:
Georgian Small and Medium Enterprise Association (GSMEA)
"Through our mentorship with Elissa Myers, a talented association manager with extensive experience working with the private sector organizations in Georgia, we have gained valuable and practical insights to help our organization develop." - Kakha Kokhreidze, Executive President
GSMEA is an advocacy organization established in 2010 in Tbilisi, Georgia that works to support small and medium-sized enterprises through policy and administrative reforms. After getting a KnowHow mentor, GSMEA increased membership by 77% over three years and enhanced its marketing strategy by introducing social media tools and e-marketing tools.
Azerbaijan Micro-Finance Association (AFMA)
"The KnowHow mentorship program has transformed our mind and challenged us to be more persistent and strategic about how AMFA functions as an organization. This has been quite an awakening." – Jhaleh Hajiyeva, Executive Director
AFMA, established in 2004 in Baku, Azerbaijan, offers cutting-edge market research and benchmarking studies for the Azerbaijan micro-finance community. Using the advocacy tips they received from their KnowHow mentor, AMFA successfully helped reduce the fee for inquiring credit history from the Central Bank of Azerbaijan from 2 manat to 1 manat (1 manat = 1 euro) in 2013. This change has allowed AMFA members to conduct more credit history checks for prospective clients.
Association of Business Women Serbia (ABW)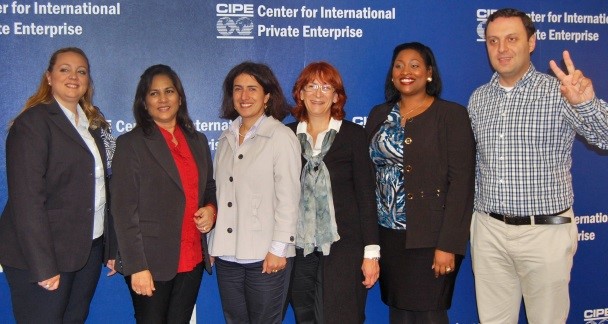 "The opportunity of having a KnowHow mentor for three years, as well as engaging and learning from other association executives in the mentorship program, all gave me more self-confidence and self-trust in my leadership skills to help improve my association for my members. – Olivera Popovic, Vice President (picture of KnowHow mentee association representatives coming together in summer 2012).
ABW was established in 1998 in Belgrade, Serbia to build better business ecosystem for women entrepreneurs. With its KnowHow mentor's assistance, ABW developed a strategic plan for 2015-2018. The mentor helped ABW focus on its future and sustainability. As a result, ABW's goal for the next three years has expanded and now includes to strengthen its umbrella associations (improving its network of women business associations throughout Serbia), and developing an advocacy platform for women entrepreneurs in Serbia.